Aachen is lively, natural, student oriented, historic, multicultural, colorful, innovative and … NEW for you? You want to know more than any blog can tell you? Then join us in our alternative free city tour Aachen!
In a free walking tour, we show you the city from a completely different perspective – a little bit from inside and outside, on foot and for free. We are a dedicated team of "Öcher" (that's what we call ourselves) who love their city and enjoy sharing it with you: With a tour in German and English almost every weekend. You can see the next dates in the slider at the top of this page. And of course, we also offer individual tours.
You come with us at your own responsibility (but it's completely safe if you know how to cross streets …).
Do you want to come along? Yes, I do!!!
city tour
Meeting point:
Aachen city center, in the small square in front of the "Leni liebt Kaffee" – Café, Buchkremerstraße 6, 52062 Aachen. Here you can find it on Google Maps.
Duration:
2-3 hours
When:
By appointment, almost always Friday at 14:00 and Saturday at 10:00. Since 14 April, we have been organising a food market at Büchel every 14 days. There are therefore no Friday tours on these days.
Other dates by arrangement. Please register for the Saturday tours no later than Friday at 6 o'clock. You can also register later – we will let you know in time, whether the tour will take place. From June 9 to September 29, our food market is held every 14 days – then there are no tours.
Languages:
German and English (other languages available on request)
Condition:
you are "good on your feet" and can stand/ walk up to 3 hours;
you are "not made of sugar" and if necessary you have a rain jacket or an umbrella with you …
Be there:
Email us if you want to join a city tour. Click here for the registration form
Individual tours
On request, we can also arrange an individual tour. Any day of the week. Also in the afternoon or evening. As a birthday present. Or any other occasion. With a special program. If we are available.
Donations:
The tour is, as I said, free – if you still want to give us a donation after the tour, we will not "step on your toes" 🙂
procedure
We walk along the paths which make Aachen really colorful, nice and pleasant. Of course, a bit of history with the most important dates of the imperial city and a bit of cathedral are also included as an introduction. If you are interested in more details, you can find extensive information on the internet.
We visit sites of art, culture and architecture, special cafés, restaurants, bars and places to relax and there are lots of tips for further discoveries. For example, where you can rent a bicycle at a good price to experience other exciting things in and around Aachen by bike and on hikes …
the team

We have all lived in Aachen (so called "Öcher") for a long time and appreciate this diverse city very much. From our experience of the city we know the small corners, the big buildings and would like to bring both closer to you. Because we ourselves are enthusiastic about it, we will certainly be able to inspire you!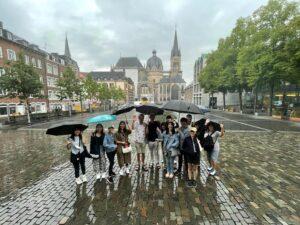 Even rain doesn't stop us from doing this tour with you – we know where to shelter and that it usually doesn't take long …
We got to know the idea of the freewalking tour on a trip, were immediately enthusiastic about it and almost never disappointed by the guides. So we started the alternative free city tour Aachen.