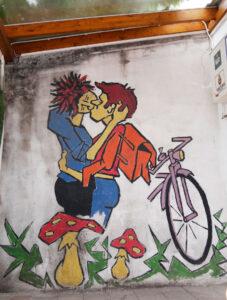 Street art always moves between legality and illegality, is perceived by some as "graffiti" and by others as art. Some see it as "defacement", others as beautification. City councils now commission street artists to design run-down walls, fences and barriers in order to improve the perceived quality of life. And in Aachen, the first illegally created works by Klaus Paier are now listed as historic monuments …
We cycle or e-scooter to six prominent places :in Aachen where we can see particularly many examples. We will discuss some of the artists involved, how they organise themselves and about their disputes and cooperation with the municipal authorities and the respective upcoming actions. We show the different styles and inform about the legal situation of street art today.
You want to join us? Yes, I want!!!
Meeting point
Aachen city centre, in front of the entrance to the Café Kittel beer garden at the Pontstraße/ Augustinerbach junction. Here you will find it on Google Maps.
Duration
2,5 hours
When
By appointment almost every Saturday at 14:00. Additional dates by arrangement. Please register on Fridays until 6 pm. You can also register later – we will let you know in time, whether the tour will take place.
Languages
German and English (other languages possible on request)
Condition
As the places we visit are far apart, you need to buy a bike or an e-scooter or come with your inline skates before the tour. You can get bicycles here or here. For e-scooters, Thier, Voi and Lime are available in Aachen.
Be part of it
Mail us if you want to take part in a tour. Click here for Form
Individual tours
We can also put together an individual tour on request. Any day of the week. Also in the afternoon or evening. As a birthday present. Or for any other occasion. If we are available.
Donations
As mentioned, the tour is free of charge – but we would of course appreciate a donation 🙂
Procedure
We start at Café Kittel and drive to particularly interesting places where many examples of different styles can be seen in one place. On the way between these stopping points, we keep passing isolated works that we only look at in passing.
Liability
We assume that you have experience in riding a bike or e-scooter, that you comply with the road traffic regulations and that you accept no liability for personal injury or damage to property. Everyone participates at their own risk.